2023-2024 Performing Arts Center Calendar Events
WCHS Theatre Department presents "A Magical Day" Saturday, October 7, 2023 @ 12:00-3:00 pm, Warsaw Performing Arts Center (tickets required)

WCHS Fall Choir Concert-Warsaw Performing Arts Center Tuesday, October 10, 2023 @ 7:30 pm

WCHS Fall Orchestra Concert-Warsaw Performing Arts Center Thursday, October 12, 2023 @ 7:00 pm

Warsaw Marching Band Community Performance Fisher Field Friday, October 6, 2023 @ 6:30 pm

WCHS Theatre Department Fall Play Friday, November 3 @ 7:00 pm, Saturday, November 4 @ 2:30 & 7:00 pm, and Sunday, November 5 @ 2:30 pm (tickets required)

Select Theatre Show presented by the WCHS Theatre Department Saturday, November 11 @ 7:00 pm and Sunday, November 12 @ 2:30 pm (tickets required)

Grace Wind Ensemble Friday, November 17, 2023

Holiday Dance Concert Thursday, December 7 @ 7:30 pm

Fort Wayne Philharmonic Holiday Pops Concert @ 7:30 pm

WCHS Band Christmas Concert Tuesday, December 12 @ 7:00 pm

WCS Madison/Washington Choir Concert Monday, December 11 @ 6:00 pm

WCS Orchestra Holiday Concert Thursday, December 14 @ 7:00 pm

WCHS Choir Holiday Concert Tuesday, December 19 @ 7:30 pm

WRSW Ornament Smash times TBA

Wagon Wheel Center for the Arts Young Artist Competition Saturday, January 20, 2024 Times TBA

WCHS Theatre Department Cabaret: All About Love, Warsaw Performing Arts Center Times TBA (tickets required) February 10 times TBA

WCHS Theatre Spring Musical-Matilda Friday, March 15 7:00 pm, Saturday, March 16 2:30 pm and 7:00 pm, and Sunday, March 17 2:30 pm tickets required

Band Showcase Concert Tuesday, March 19 , 2024 - 7:00 pm location TBA

Grace Wind Ensemble Times TBA Friday, March 22, 2024

Tri-Kappa Elementary Art Show Saturday, April 13 Times TBA

WCHS Band, Choir, Orchestra Pre-ISSMA Concert April 16, 2024 @ 7:00 pm

WCHS Theatre ONE Act Plays Friday, May 3, 2024 @ 7:00 pm

Spring Dance Concert Tuesday , May 14 , 2024 @ 7:30 pm

Spring Choir Concert Thursday , May 16 , 2024 @ 7:30 pm

Spring Band Concert Monday , May 20 , 2024 @ 7:00 pm

Spring Orchestra Concert Thursday, May 23, 2024 @ 7:00 pm
* ALL DATES AND TIMES SUBJECT TO CHANGE
Warsaw Performing Arts Center Events: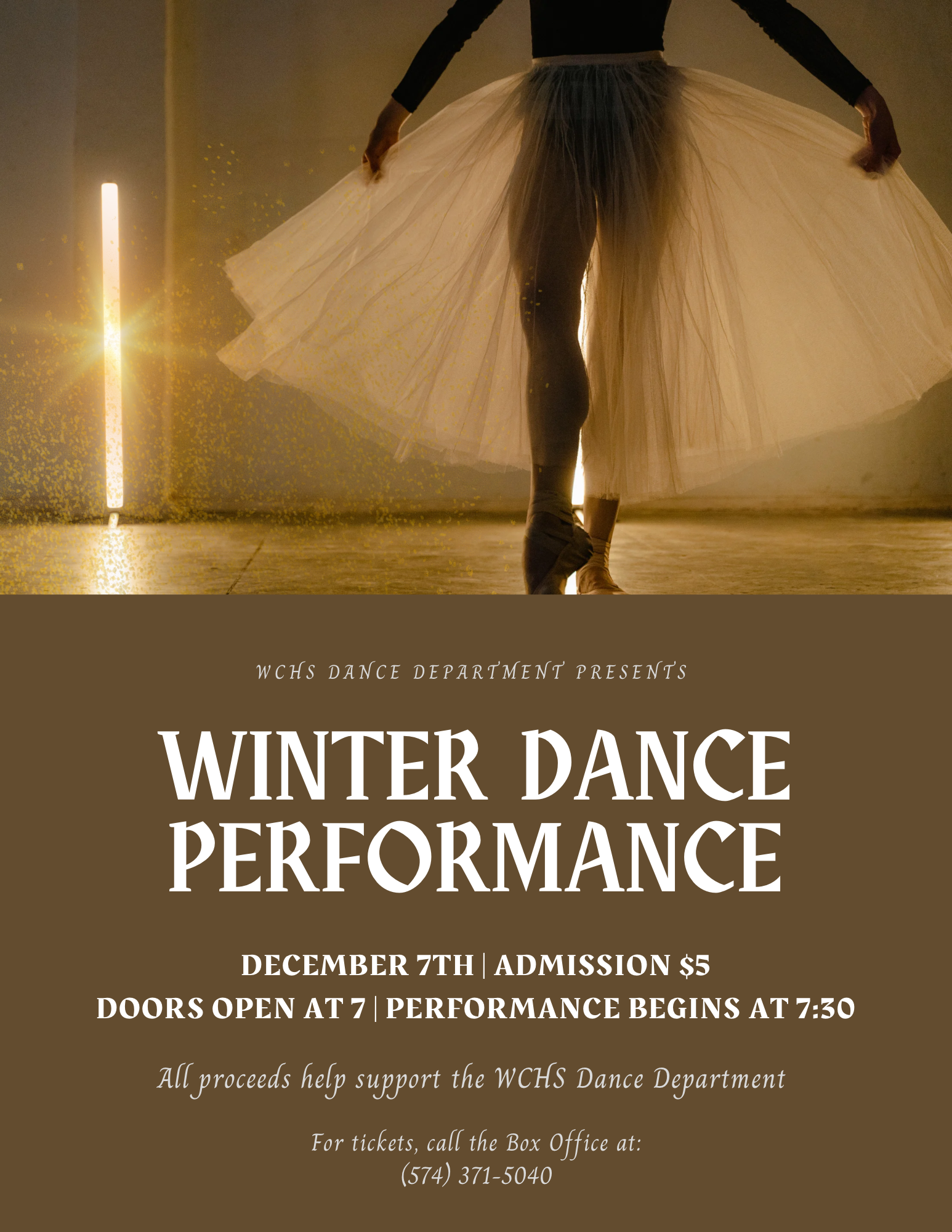 WCHS Dance Department
Winter Dance Performance
Join the WCHS Dance Department for their Winter Dance Performance, on Thursday, December 7th. Doors open at 6:30 p.m. with the performance scheduled for 7:30 p.m.
All tickets are $5.00 and all proceeds benefit the WCHS Dance Department. Flowers will be for sale in the lobby for patrons who would like to congratulate a student.
Dance Students will present a compilation of various dances, such as Contemporary, Hip Hop, and Jazz. Each number brings a new artistic dynamic to the stage, with popular song selections and modern choreography and costume styles. Featured self-choreographed performances from Honors students Malori McDaniels and Victoria Peloza will be featured.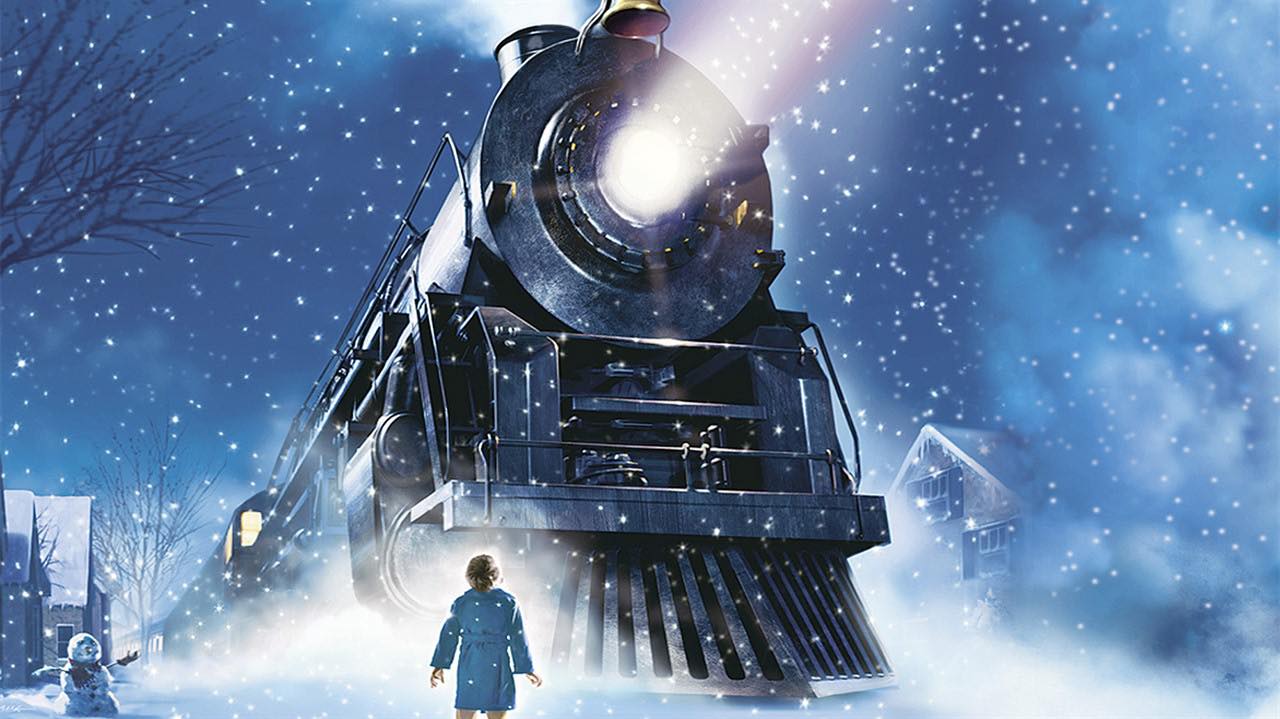 Our next FREE FAMILY MOVIE featuring "The Polar Express" is Saturday, December 9th. Doors at the PAC open at 5:00pm with the feature film set for 6:00pm. FREE ADMISSION for all! Concessions available.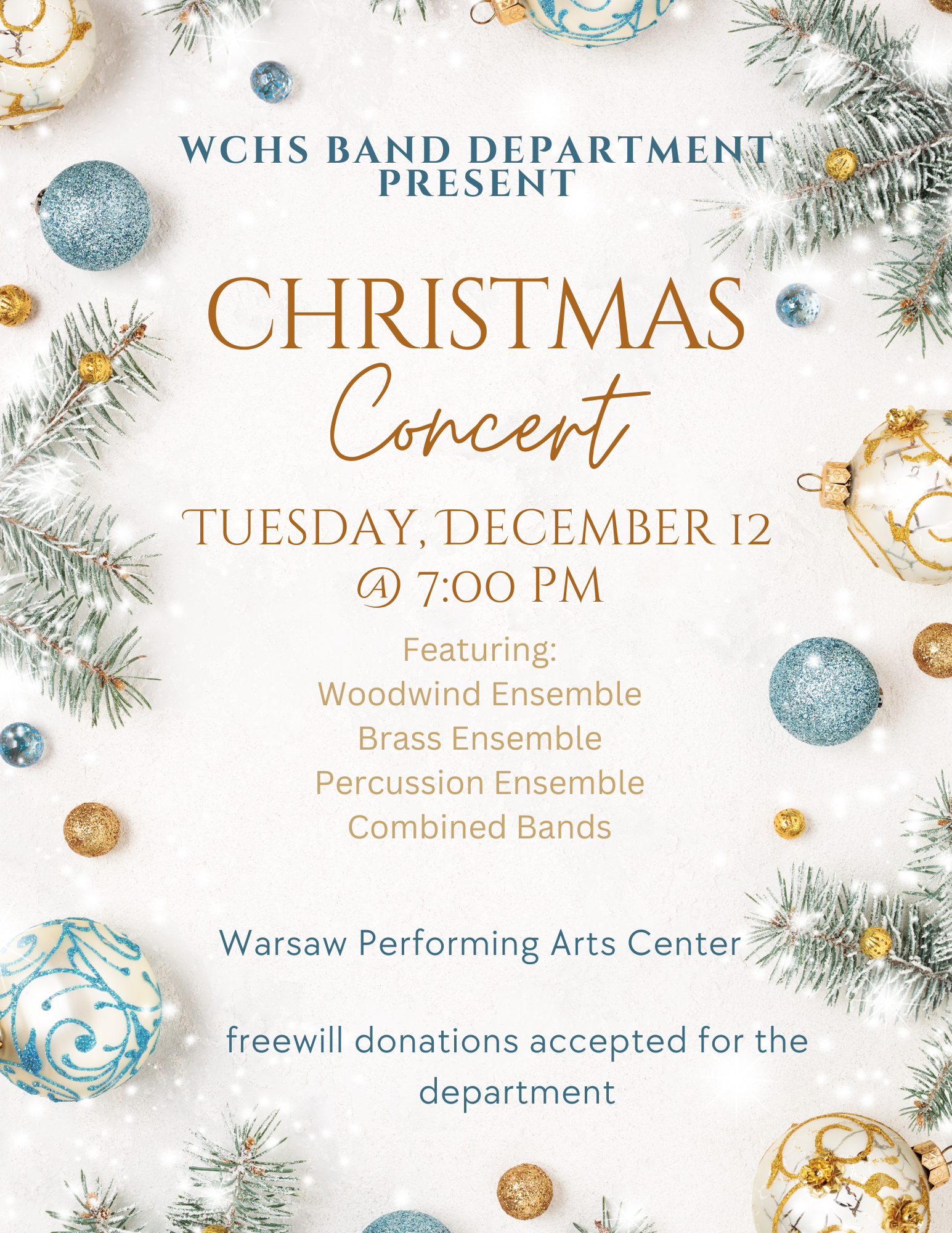 WCHS Band Department
Christmas Concert
The WCHS Band Christmas Concert is set for Tuesday, December 12, 2023, at the Warsaw Performing Arts Center, 1 Tiger Lane, Warsaw.
Doors open at 6:00 p.m., with the concert starting at 7:00 p.m. Admission is free, but free will donations will be accepted at the door for the Band Department.
The annual Christmas concert will feature the Percussion Ensemble, Woodwind Ensemble, Brass Ensemble, and Combined Band. Each ensemble will perform 1-2 pieces to feature their unique sounds and skills in the context of this holiday season.
The Brass Ensemble will perform several infamous Christmas carols, and audience members will be invited to sing along as the band performs.
The Combined Band will feature all band students on two Holiday pieces that the audience will surely enjoy, 'Celtic Carol' and a medley of 'How the Grinch Stole Christmas'.
The Bands are under the direction of Mark Ziegler and David Knouse.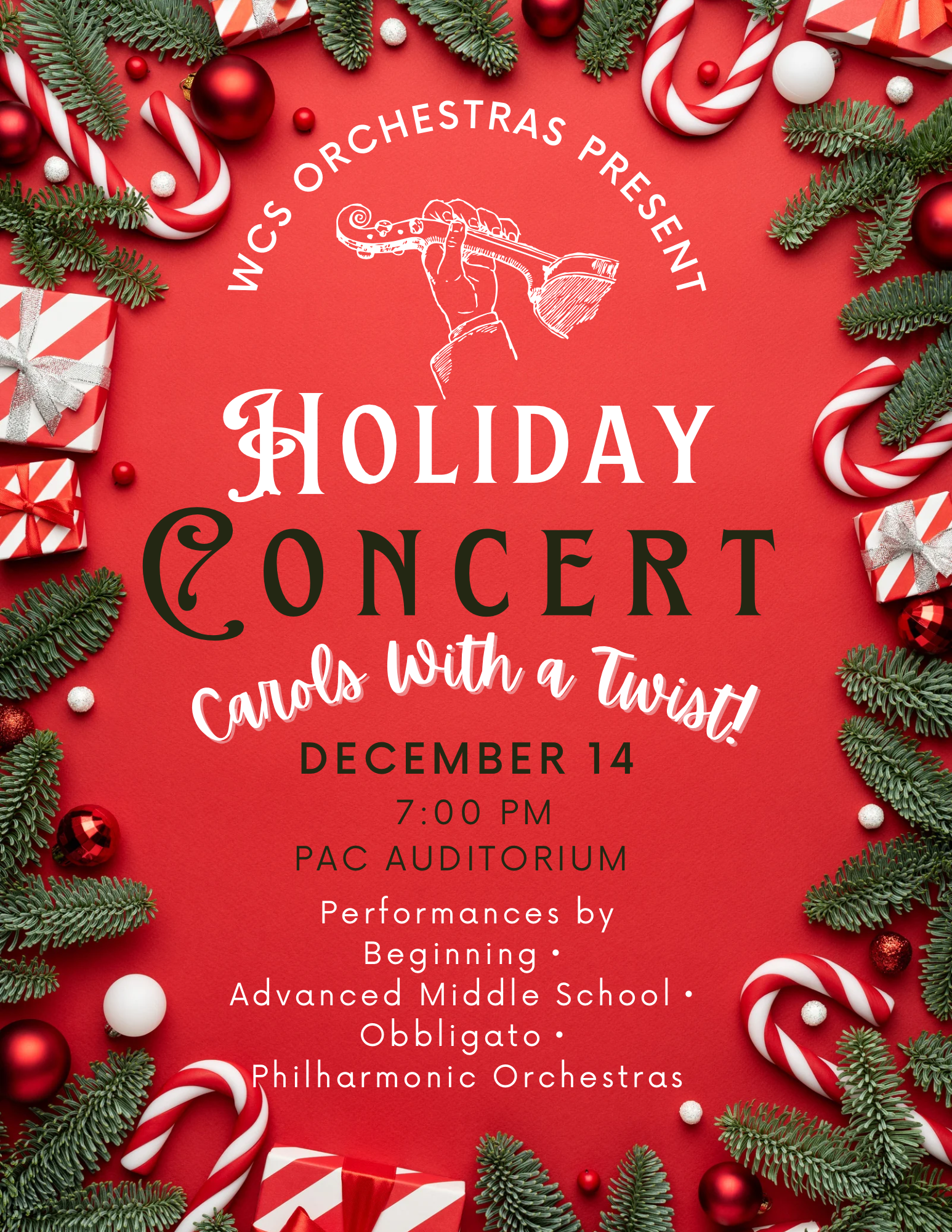 Orchestra Holiday Concert
Save the Date: Thursday, December 14 at 7:00 PM Warsaw Performing Arts Center.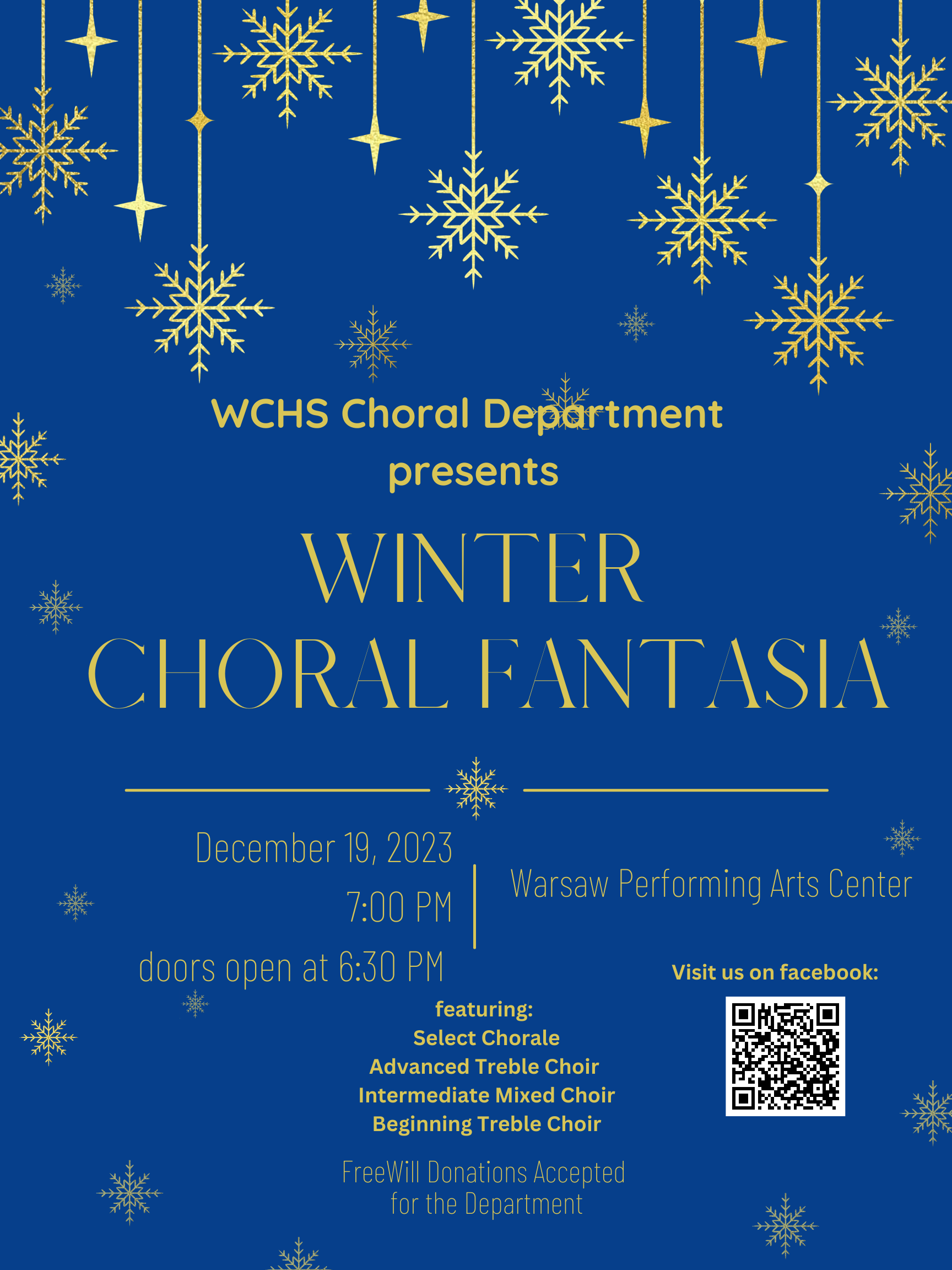 WCHS Choir Holiday Concert
The Winter Choral Fantasia will feature all four of the Warsaw Community High School Choirs. There will be a wide variety of music performed, featuring well-known Christmas favorites, Hanukkah tunes, and other seasonal pieces, and concluding with the annual singing of "Silent Night" with sign language.
This is a free concert for the entire Warsaw community, with free-will donations being accepted at the door to support the work of the WCHS Choral Program.
The Choirs are under the direction of Josh Hren.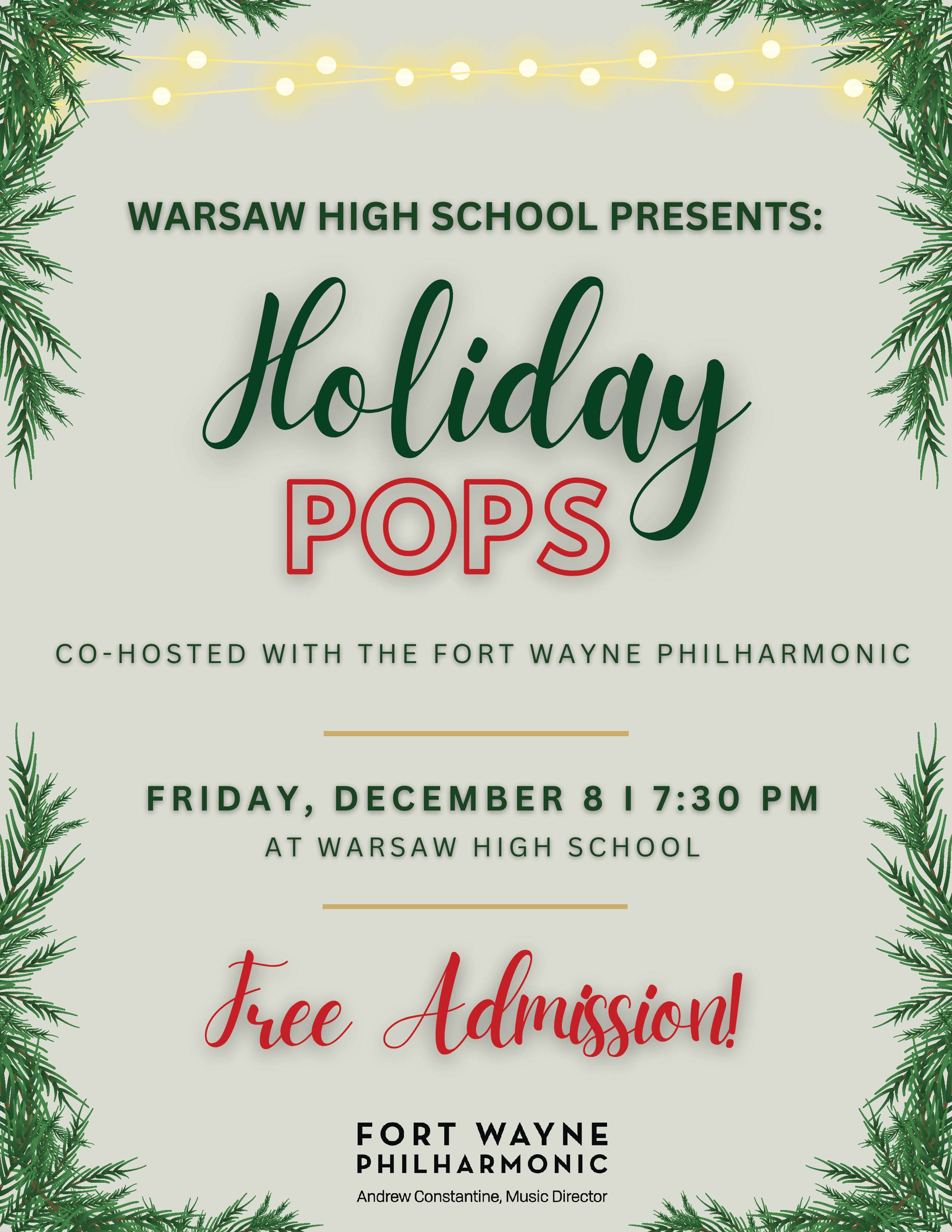 Fort Wayne Philharmonic Holiday Pops Concert
Take a journey through the winter wonderlands and traditional Christmases of bygone days right up to the present, in an entertaining concert of traditional and contemporary favorites, featuring the Philharmonic and soloist Stephanie Carlson.
Warsaw High School
1 Tiger Lane, Warsaw, IN 46580

This performance is FREE and doesn't require a ticket for entry.
WRSW ORNAMENT SMASH
WARSAW PERFORMING ARTS CENTER
December 22, 2023